Our mission is to live the gospel in worship, prayer, and compassionate ministry to all in need.
At First United Presbyterian Church
we believe that God lives and works among us.
We are most alive when we care for each other and those outside our community.
We believe in the awesome power of prayer.
We worship with joy and expectation, celebrating that we belong to God and that we are a community of compassionate, caring people.
We are seeking growth and change.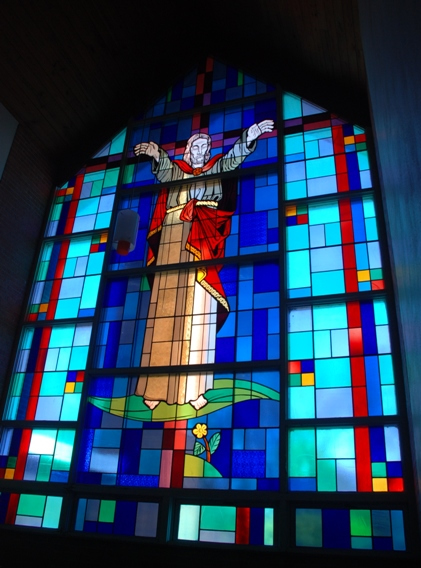 The Presbyterian Church has a rich and exciting history. Like all Christian churches, we can trace our roots back to the early church in Jerusalem. Modern Presbyterianism is considered by many to be a rebirth of the early church of the New Testament.
There are three central figures in the historical tapestries of Presbyterianism.
When, in 1517, Martin Luther opposed the Catholic church with a list of grievances (called Luther's 95 Theses), he cemented his place in history as the man who moved the Protestant Reformation forward. The Reformation sought to "reform" Christianity by returning it to original beliefs based solely on reference to the Bible. It gave rise to the Protestant church and was a viable force in the decline of the Catholic church. In short, Luther's main argument was against the pretensions of the authority of the Pope. He believed in direct authority from God.
In 1533, John Calvin (often called the father of Presbyterianism) presented his interpretation of the Bible emphasizing theology (the study of religion), worship (ascribing all praise and glory to God) education, thrift, ethical behavior and representative government for his followers. From his home in Geneva, Calvin's ideas spread throughout Europe.
John Knox, the Scottish Protestant, fled persecution in his homeland and studied with Calvin in Geneva. He returned in 1559 and established Presbyterianism in Scotland.
Between 1643 and 1649, the "Westminster Assembly" of 151 Presbyterians worked steadily to write down guidelines which Presbyterians now recognize as some of their basic texts.
Presbyterians escaped persecution (by the Catholic church) in Europe and settled in America. Presbyterianism was so prevalent in American that some British called the American Revolution the "Presbyterian Revolt." At least 14 signers of the Declaration of Independence were Presbyterians (including clergyman John Witherspoon).
The first Presbytery in America was established in Philadelphia in 1706. During the 1800s, disagreements over slavery and Evangelism (the telling of the life, death and return to life from death of Jesus Christ) broke the church into northern and southern branches. The two branches were reunited in 1983 to form the Presbyterian Church (USA).
By definition, Presbyterians are actually a group of Protestants (people who believe the tenants of faith adopted after the Reformation) whose church is founded on the concept of democratic rule under the Word of God (as found in the Bible). The Presbyterian denomination is a form of Christianity democratically organized to embrace the faith common to all Christians. "Presbyterian" actually connetes the way our church is structured.
All that is required to be a Presbyterian is to:
Confess the Christian faith
Trust in Christ
Promise to follow Christ and Christ's example for living
Actively participate in the life of the church
Pastor Sam
Sam Foskey was born in Adrian, Georgia, and is a graduate of Adrian High School, Georgia Southern University, and the Southern Baptist Theological Seminary. He taught in the public schools of Wrightsville, Georgia for eight years until entering seminary in 1990. He has a B.S. in Psychology, a Master's in Education, and an Master's of Divinity.
Sam was ordained as a Southern Baptist minister in 1992 and served Baptist churches in Indiana and Georgia until moving to the Carbondale area in 1999 to serve as pastor of University Baptist in Carbondale. He left University Baptist in 2008 and has been serving as an interim minister since then. He received Basic Interim Ministry Training throught the Presbyterian Church (USA) and has served the following churches as interim pastor: the Church of the Good Shepherd United Church of Christ in Carbondale; St. John's United Church of Christ in Smithton; First Presbyterian in Harrisburg; and First Presbyterian in Shelbyville.
Sam has held ordained standing in the United Church of Christ since 2011.
Sam is married to Linda Benz of Carbondale and they have two sweet cats, Kalli Kathryn and Quintin. Linda is retired from Southern Illinois University in Carbondale. In terms of civic involvement, Sam is a former Rotarian, a former Board member of The Women's Center and a former member of the Regional Advisory Board of Caritas Family Solutions. Sam is also an active member of the Stage Company and has appeared in a number of productions at the Varsity Center for the Arts in Carbondale.
In his leisure time, Sam enjoys cheering for the Georgia Bulldogs and Georgia Southern Eagles football teams and devotes a lot of time to reading and watching fantasy and science-fiction-related books, movies, and television shows. His congregations should be prepared to hear a number of quotations and anecdotes from these genres!